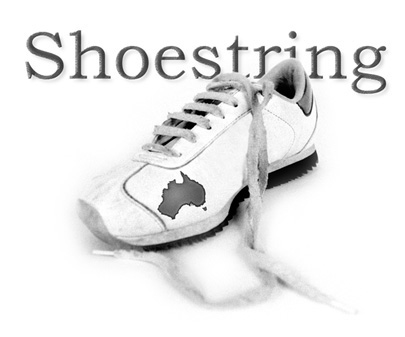 Artists and Repertoire
Shoestring History
Shoestring Records is a highly successful independent CD label formed in 1976 around the work of Australian Singer Songwriter Pat Drummond,
The second album ever to be released on the label in 1978 was by Australian Bush Poet, Anthony Jack . The label has maintained a strong interest in Bush Poetry ever since. Over the last 25 years Shoestring has expanded to included 10 acts and 37 titles but has remained solidly an acoustic music and Bush poetry label.
There are five strands to their operations
1) The Singer-Songwriter series which supports Pat Drummond, Allan Caswell, Karen Lynne, Cathy Miller, K'crasher Brent Parlane, MarkTempany and soon to be released offerings by Nigel Foote.
2) The Bush Bards series which supports Keith McKenry, Alan Scott and Len Knight,
3) CD's from the Naked Poets Series which promotes the enormously successful Naked Poets and the spin off solo albums by the member of this award winning and top selling comedy Bush Poetry troupe.
4) The Australian Roots series which supports traditional Australian Colonial music from Award winning Bush band and Dance Collectors, The Wongawilli Bush Band, Jane Bownlee and John Dengate,
5) the not the question series which supports the work of Drummond siblings Matthew, Peter and Meghan
Welcome to
Shoestring Records, Australia
The Home of Fine Australian Music and Bush Poetry since 1976
Enter
Best viewed at '800x 600'
(All Computer animation by Drummond Design Website by Pattern Pat Websites
---
Home
/ Back to Shoestring A&R