Wongawilli Bush Band

The Band
Graeme Murray - main vocal, lagerphone, whistle, spoons
Reg Murray - mandolin, banjo-mandolin, banjo
Jason Roweth - guitar, vocal
Chloe Roweth - main vocal, mandolin
Jane Brownlee - violin, viola
Tania De Santi - piano
David De Santi - accordion, concertina
1. Live at the Local -
2. Australian Selection -
SOUND SAMPLES
3. Australian Tradition
4. After The Tradition
About The Band
The band was originally formed in 1987 to help promote, preserve and perform Australia's rich tradition of music, song and dance. The year 1988 proved to be a busy one with the band gaining quick popularity and performing at over 50 functions. The band combined on many occasions with the Wongawilli Colonial Dancers to present a unique presentation of Australian bush music and dancing.
The band has become well known throughout Australia with performances at all major folk festivals - Maleny, Port Fairy, Victor Harbour, the National Folk Festival (10 times).
The year 1998 saw a major change for the band. Two of its long standing members John Harpley and Neil McCann decided to move on. John moved to Yass and Neil, the band's primary songwriter, is enjoying music with his family band, Cara.
The new youthful additions to the band are Jason and Chloe Roweth from Bathurst and fiddler Jane Brownlee from Sydney. They join father and son, Graeme and Reg Murray, and husband and wife, David and Tania De Santi (Jane's older sister). Jason
Last year also saw the release of a compilation recording of the band's two previous productions - After The Tradition and Australian Selection. They were released in North America by Musica Pangaea, who are specialising in world and Australian Folk Music. The new recording is titled Australian Tradition and is 78 minutes long and is receiving airplay in the US, Canada, Europe and the Mid-East.
Other projects during the year have been playing with the BHP Youth Orchestra and the SBS Radio Television Choir as part of a special presentation on migration songs, dances and music in Australia, titled the Southern Cross is Calling.
The band continues to help with the organising of the Illawarra Folk Festival at Jamberoo, with David De Santi as director for the past 5 years.
The band along with Wongawilli Colonial Dance Club have also established the Australian Folk Festival at Kiama to provide a more focused event based on Australian folk music.
The aim of the group was and still is to perform and promote and hence preserve Australia's rich heritage of music, singing and dancing. The band prides itself in the truly Australian dances it performs such as the Varsoviana, the Schottische, the Quadrilles and Galops in addition to the normal bush dances expected by bush bands.
The new band has just released a new recording 'Live at the Local' and members have continued publishing books on Australian folk material through the Pioneer Performer Series.
Dances
The band is well known for its dance music and Australian dance repertoire, with over 80 dances in the band's repertoire. Performances have been provided for the National Folk Festival on a number of ocassions, Bush Music Club, Melbourne, Canberra and Adelaide Colonial Balls.
The following is a selection the band can teach and present.
Quadrille formation dances (4 couples in a square set)

Santoys Quadrille
Galop Quadrille
Lancers Quadrille
Polka Cotillion
Waltz Cotillion
Wombat Quadrille
The Grand March, danced traditionally at the start of the evening and before a quadrille

Couples Dances

Berlin Schottische
Pride of Erin
Frangipani Waltz
Prince of Wales Schottische
Varsoviana
Kings Waltz
Princess Polka
Brown Jug Polka
Dutch Hoe Waltz
Barn Dance
Manchester Galop

Longways sets dances

Country Bumpkin
Haymakers Jig
Flying Pieman
Sandhurst Diggers
Double Sir Roger de Coverley
Bullockies Ball
Virginia Reel
La Galopade
Circle Dances

Adelaide Race Day
Circle Waltz
Circassian Circle Pt 2
Jubilee Jig
Stockyards
Blackwattle Reel
Jacaranda Dance
Circle Galop

Other formations

The Tempest
Waltz Country Dance
Spanish Waltz
Jolly Miller Waltz
Devil's Triangle
La Gursa
Dashing White Sergeant
Awards
The band has aimed at trying to be different from the average bush band by performing unfamiliar yet entertaining music. This formula seems to have received national recognition with 16 awards at the 1990, 1991, 1993 and 1994 Australian Bush Music Festival and Bush Band Championships namely in the Australian Bush Music Awards (pre-recorded entries)
Best Traditional Bush Band, 1990, 1991, 1992, 1993 & 1994
Best Instrumental, 1990
Best Contemporary Bush Band, 1991 & 1994
and in the Australian Bush Band Championships (live at the Festival)
Best Traditional Bush Band, 1990 & 1992
Best Bush Dance Band, 1990 & 1992
In particular the band's singer, Graeme Murray, received the 1991 Australian Bush Music Awards Best Male Vocalist ahead of John Williamson and Alan Scott. He has repeated the award in 1993 and 1994 and has become the "Voice of the Bush". He shared the award in 1993 with Pat Drummond.
Also the band's accordionist, David De Santi, along with Rob Willis of Forbes received the 1992 Australian Bush Music Heritage Award for their work in promoting and preserving Australian dance and music with the Pioneer Performers Series, a compilation of books and cassettes.
Live at the Local Tracks

1. Barn Dance Set (trad) tunes - Little Angeline, Stan Treacy's Schottische, Cosgrove's Schottische, Click Go The Shears
2. Give Me A Hut (trad)
3. The Ballad of Les Darcy (Clem Parkinson)
4. Tangmalangaloo (John O'Brien/Wongawilli)
5. Old Blokes Set Tunes (trad) tunes - Luke Oakley's, Bill McGlashan's Two Polkas, MacGregor's March, Bill McGlashan's Prince Imperials Tune
6. Freehold on the Plain (trad)
7. Jog Along Till Shearing (trad) / March of the Fairy Penguins (Maitland Swallow)
8. Coal Miner's Lament (Neil McCann)
9. Fairly Reel Set (trad) tunes - Fairy Reel, The Breakdown, Frank Collins Polka, White Cockatoo
10. Songs of the Bush (Jason & Chloe Roweth)
11. Battler's Ballad (Jack Wright/de Hugard/trad)
12. Pink Harmonium (trad/Simon Jeffs) tunes - Pink Ankle Rag, Music for a New Found Harmonium
13. Bonnie Moon (trad)
14. Moss Vale Train (trad/Alan Scott)
15. Shearer's Jamboree (Joan Martin & Eric Tutin)
16. Snags (L.Sicard/Tristan Glover) tunes -Phillipe Bruneua's Reel, Pink Elephants
17. Shoalhaven Man (Geoff Drummond)
Australian Tradition
CD $20 only
ORDER FORM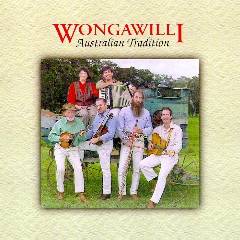 A selection of Wongawilli's two recordings "After the Tradition" and "Australian Selection" have been compiled and has been released in North America and available in Australia. Released by Musica Pangaea.
Rum and Raspberry
The Year of '79
The Southern Cross is Calling Me
Town of Kiandra
Queensland Shed's Begun
The Swaggies Have All Waltzed Matilda Away
The Bottle Run
The Windmill Run
Bail Up
And When They Dance
When You're Flush
Year of the Drum
Call of the North
Song of the Bullock Driver
Pit Street Cocky
Waltzes: Under the Willow / Goodman's
Digger's Song
Jackson's
Binda Ball 1864
Set Tunes: Railway Hotel / Moonan Flat
Dasher's Home Brew
Larkin's Bar
A Night at Daisy Park
Australian Selection CD $20, cassette $12 - SOUND SAMPLES Words to Songs
ORDER FORM
Over 70 minutes of traditional, contemporary and original songs and tunes, released in March 1994. Has received 5 awards at the 1994 Australian Bush Music Awards. CD includes 24 page lyric booklet, cassette a lyric sheet.
1. And When They Dance (Roy.C. Abbott).
2. Bald Hill (trad arr. Rob Willis)
3. When You're Flush (Tom Brittain/Bob Rummery)
4. Year of the Drum (Wendy Joseph)
5. First Set Tunes - Colin Charltons, Orley Benson's
6. Call of the North (Jack Sorenson/ Bob Rummery)
7. Song of the Bullock Driver (Henry Lawson/John Manifold, Mike Jackson)
8. Saturday Night at Marshall Mount (Neil McCann/ tune trad.)
9. Pitt Street Cocky (Tim O'Brien)
10. Waltzes - Under The Willow, Ernie Goodman's
11. Shearing Time (Edward R. Murray/tune trad.)
12. Diggers Song (words trad/David De Santi)
13. Irish Lords (Charles H. Souter/Martyn Wyndham Read
14. Jacksons (Walter Stores/trad)
15. Binda Ball 1864 (John Manifold/John Harpley)
16. Set Tunes - Railway Hotel, Moonan Flat
17. Dashers Home Brew (Reg Murray, P. Garner/tune adapted David De Santi)
18. Blue Gold, Butter and Redwood (Neil McCann/ tune trad)
19. Gundaroo Bullock (Andrew B. "Banjo" Paterson/ tune trad)
20.Mazurkas - Clementine, Vera Lee's
21. Larkins Bar (trad arr. David De Santi)
22. A Night at Daisy Park (Neil McCann/D.De Santi, J. Harpley)
After The Tradition cassette only $12 ORDER FORM
A selection of 13 traditional and contemporary songs and 13 traditional dance tunes. Songs include the Waterwitch, Rum & Raspbery, Southern Cross is Calling Me, Windmill Run, The Wee One, Swaggies Have all Waltzed Away, Ocean Liner, Bottle Run, and Bail Up. The recording has won 10 awards.
Rum and Raspberry (anon)
The Year of 79 ("Snowy Baker"/Brad Tate)
Collected Tunes Medley No. 1 - Bill Cooper's Polka, Bill Glashan's God Bless You & Bugger Me, Stan Treacy's Polka, Charlie Batchelor's Orotaba Waltz, Bill Cooper's Waltz, Bert Jamieson's Lancers Set Tune, Paddy Godden's Set Tune
The Southern Cross is Calling Me (Joe Paolacci)
Town of Kiandra or Wee One (anon)
Queensland Sheds Begun (Will Ogilvie/Martyn Wydnham-Read)
The Waterwitch (J.H. Davies/Brad Tate)
The Swaggies Have All Waltzed Matilda Away (Alistair Hulett)
Bottle Run (Barry Skipsey)
Collected Tunes Medley No. 2 - Harry Schulz's Schottische, Mrs Phillip's Rocking Schottische, Babes in the Woods (Varsoviana), Fred Holland's Johnny Hopalong (Varsoviana), Bill Gilbert's First Set Tune, Jim Wilkinson's Lancers Set Tune
Ocean Liner (Barry Skipsey)
The Windmill Run (Alan Mann)
Bail Up (Rob Fairbairn)
Tunes of Bert Jamieson cassette only, $10 ORDER FORM
Accompanies the publication. Bert's harmonica playing is joined by Rob and Olya Willis and Wongawilli to create a uniquely Australian bush music sound. The music is arranged to suit old traditional dances including the Lancers Quadrille, Varsoviana, Schottische and Mazurka. Other instruments include concertina, accordion, piano, whistle, violin, banjo-mandolin and spoons.
The Lancers Quadrille
Varsoviana
Highland Schottische
Mazurka
Schottische - Little Angeline, Ben Davey's
Waltzes - Write Me A Letter, Goodbye My Bluebell
Polka - Jenny Lind
Lancers Set Tunes
Set tunes - Dad's Tune, Old Dan Tucker
Bush & Folk Not for commercial sale - available to Media producers
produced by Logical Choice / Boosey & Hawkes
A compilation CD of instrumental music used for television, film and radio. The CD included 12 tracks from Wongawilli - mostly instrumental versions of songs from Australian Selection. The tracks have been played at the Royal Easter Show, The D-Generation Show, Channel Nine sports shows and who knows where else!
Tracks were:
Bullocky Song
Quadrille Tunes
The North is Calling Me
Road to Omeo
Railway Flats
Forbes Medley
Binda Waltz & Polka
Daisy Park
Meredith's Waltzes
Click go the Shears
Waltzing Matilda
Botany Bay
Clementine
What they've said about the band

... this ensemble is highly regarded in the field of interpreting authentic Australian traditional music, song and dance as a performance art. The group is recognised in Australia as a leading force in the revitalisation of our folk traditions ...
Warren Fahey AM, JP, Festival Records

... Wongawilli Band, based in the culturally-rich Illawarra region are nationally recognised as one of, if not the, finest exponents, collectors and presenters of Australian traditional 'Bush' music. Their stage performances are distinctively 'Australian' whilst having a wide general appeal with their lively rhythms and music coupled with lyrics which frequently carry the wry humour of the Australian 'bushie' ....
Bernard Bolan, President Folk Federation of NSW

... They present entertaining and distinctive interpreations of traditional and tradition-influenced Australian folk songs and tunes and have won many awards and appeared at many major festivals and venues ...
Jamie McKew OAM, Festival Director for Port Fairy Folk Festival