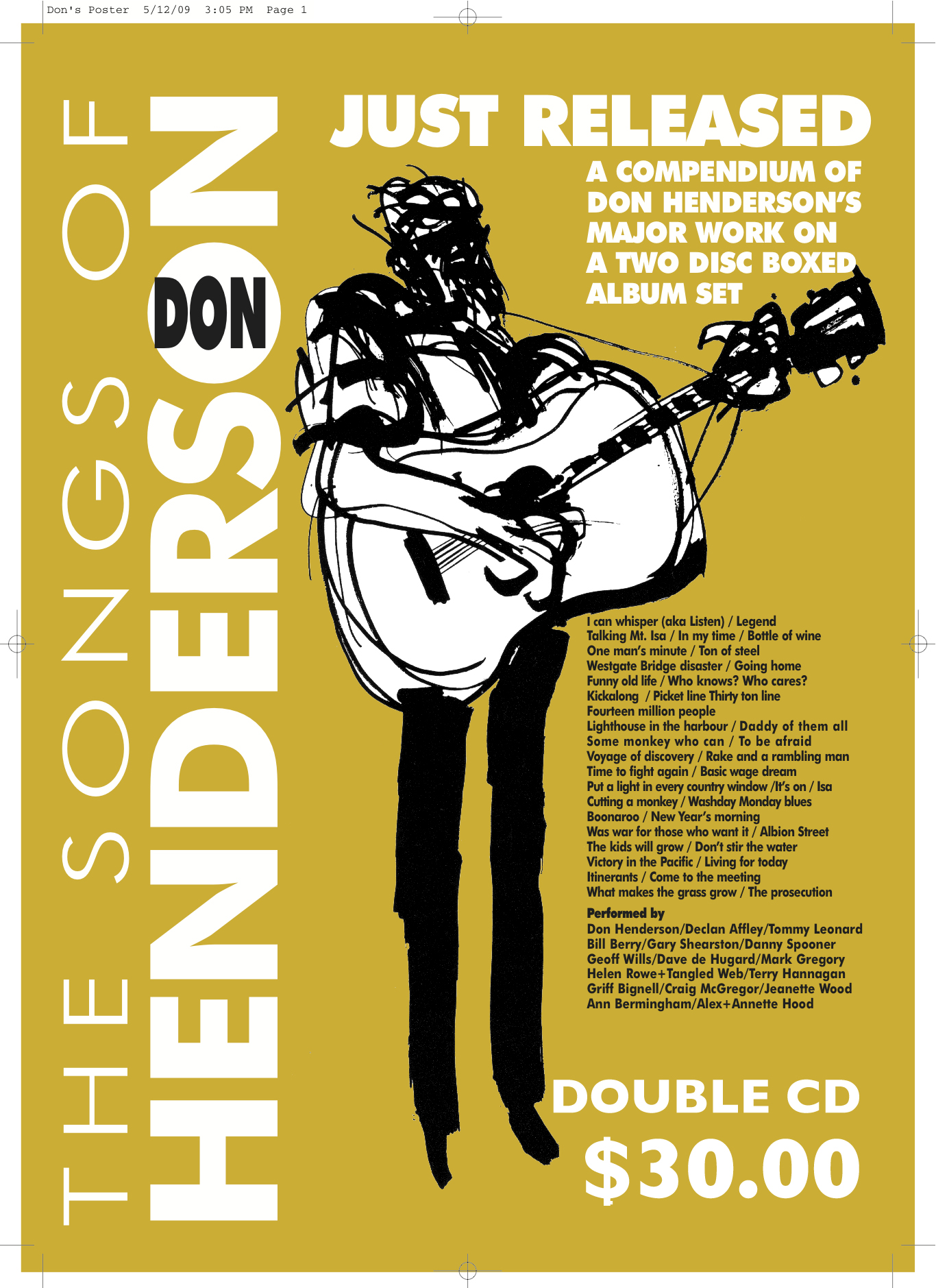 Australian Roots Series
Reviews so Far
Don Anderson (SMH.com.au/theguide February 8 - 14, 2010 p.9):
But wait there's more! Mark Gregory's copy of The Songs of Don Henderson will be a valued addition to the library. All the evergreen Henderson ballads and songs in the distinctive vernacular on a two-CD set on Shoestring Records, sung by their composer and revered names from the late '50s to the early'90s.
The Songs of Don
Don Henderson
(Shoestring)
***
In the hierarchy of Australian folk, Don Henderson is an iconic figure who, although he died in 1991, is considered by many as the closest this country ever came to producing a singer-songwriter of the calibre of Woody Guthrie.
The reason is simple. Henderson was no great craftsman. He didn't have a great voice and wasn't a particularly good guitar player. But he did write a substantial body of "news" and contemporary "social commentary" songs.
Think of the wry and Guthrie - like talking blues of Talking Mt lsa, about the miners' strike. Or the melancholy Westgate Bridge Disaster, a swingeing attack on the incompetence that led to the collapse of the infamous bridge. He never deviated from his passionate support for unionism, anti-war activism and belief in the decency of manual labour.
Recently, a disparate group of left-wing organisations and individuals - notably the Queensland Folk Federation, Brisbane Labour History Association, Illawarra Folk Club, the CFMEU and Shoestring Records - have worked to preserve Henderson's legacy.
This double CD, containing 40 songs, comprises 20 original recordings and 20 of Henderson's songs recorded by such Aussie folk luminaries as Gary Shearston (Put a Light in Every Country Window), DeclanAffley (Rake and Rambling Man) and Danny Spooner (It's On).
This is an important piece of Australian folk history. Henderson deserves to be remembered.
Bruce Elder
The Songs of Don Henderson: Review by Mike Ball (December 2009)
Aside from my devotion to the great choral and solo song treasury from 'Classical' and Church repertoires, many of the recorded songs I re-visit frequently were written by musicians influenced by the Folk Music Revival Movement from the late 1950s on, writers who used the repertoire of earlier generations, much of it anonymous sources, to inform their own compositions. A partial personal list (bearing in mind my English base) would include Don Henderson, Eric Bogle, Ewan McColl, Pete Seeger, Richard Thompson, Jake Thackray, Ralph McTell, Cyril Tawney and others of a different hue like Flanders & Swann, Noel Coward - and W.S.Gilbert whose lyric style had a fundamental influence on the great American school of writing, 1920 to, say, 1950, e.g. Jerome Kern, Dorothy Fields, P.G.Woodhouse (sic!) and Cole Porter, especially the latter. Although I rated Don highly on the basis of some dozen songs of his which I first encountered during four years in Sydney and Melbourne, 1960s, he has only entered my list of the Great and Good since this double CD landed on my mat here in Kent some 3 weeks ago (Mark Gregory tells me that I was Shoestring's first sale, which at this distance I find highly chuffing), allowing me to know about and assess the whole of his prolific output. I blush at the thought that the last time we met, when he and his wife attended my wedding in Sussex in 1977, I had no idea of his growth in stature as a writer since last seeing him in Sydney (at work on making a guitar) 10 years earlier.
The list above has writers who have produced not only several songs of undoubted merit, perhaps deserving recognition beyond what they have achieved, but also a portfolio of songs which reveal their great range of topic, mood, supported by literary and melodic craftsmanship and the 'sine qua non' of a lively Imagination. No doubt other reviewers, closer than I to these very Australian songs and their social and political back ground, will be celebrating this collection in detail: I have chosen to take one item on which to hang observations and judgements which apply to much in these albums. I refer to 'A Rake and a Rambling Man', No.1 on CD 2, which amongst much classy competition stands as the Champagne Moment for me, a choice which I hope is not unduly prejudiced by my having committed it to memory many years ago.
We are given a low-life character, already apparently condemned in the title as a Rake, who is any thing but seriously rakish as we learn by this moving portrait of a complex and likeable personality. It has for me a special place in its category of the meditative, slowly unfolding, autobiographical-like 'tale', the Folk style equivalent of the Pop 'ballad' perhaps, something between a lyric song and the Ballad in the literary sense. It's worth dwelling on these delicious verses, realised to perfection by Declan Affley's interpretation. The lyric is matched by a Dorian mode melody worthy of the economic, spare, poetic lines. We meet a 'working' man of no particular class, encounter the mettlesomeness of a bloke who won't let the bastards get him down, yet this mollified by his recognition of the realities of life ("..There are more policemen than Rambling Men.."). Interest is kept up by the ebb and flow of the mood, ebullience and conciliation by turns, and I can't help being reminded of the English peasant-poet-philosopher John Clare (and, for his splendid bloody-mindedness, the Yorkshireman writer Jake Thackray). If Don's desire was to be merely seditious (the piece written at a time when Protest songs and such were all the rage in the English speaking 'world'), i.e. to go some way towards enfeebling one's secure feelings as City-based, '9 to 5' bourgoisees (as the Marxists would have it) he would have failed the song. His strength in getting us to rethink attitudes towards the outcast is this: understatement, all the more powerful a device because, perhaps, that is not an especially prominent Australian characteristic, though you meet it frequently enough in this collection. So many earnest songs bearing grievances fail by their fierce directness which results in the potentially sympathetic but moderate-minded to shrink away in the face of polemical over-statement.
I should add that in details my politics are different from Don's, proceeding as it does from different life experiences; yet his strongly felt views and assumptions thoughout this excellent project never descend to shrillness, are never for me off-putting. Along with other songs here, Don secures our sympathy and our empathy even when the topic is tangental to one's own life and when one disagrees with the propositions: this is achieved by the wholesome integrity on display,so we tend to believe him.
Postscript: That Dorian mode tune, minor 3rd and 7th, major 6th, a masterly achievement, its structure and its surprise leaps and turns ensuring it comes to me ever fresh.
M.R.Ball Kent 16.12.09
More on this important release at http://donhenderson.com.au/cdreview01.html

Back to the Australian Roots Home Page
/
Back to the Shoestring Records Homepage
Welcome to
Shoestring Records, Australia
The Home of Fine Australian Music and Bush Poetry since 1976
Enter
Best viewed at '800x 600'
(All Computer animation by Drummond Design Website by Pattern Pat Websites